During those quiet moments when the clocks ticks, the birds chirp, and the hum of distant traffic provides a contemplative hint of bass, I find myself asking the big question: Why am I so ridiculous around celebrities?
No really, what is my problem? They're only human. Before they were famous, they weren't famous. I shouldn't be so inwardly giddy just because I've seen their face on a screen.
Seconds earlier, I talked gibberish.
I've talked about this before. When I queued at a book signing to see Marian Keyes, I got stupidly tongue-tied, and ended up wasting my minute with her by blurting out something about Strictly. I have similarly morto anecdotes from my experiences with Caitlin Moran and Armistead Maupin. And those are the times I should be composed. I bought a ticket for a signing. I knew I was going to see my writer hero. I had loads of time to gather my thoughts and provide the witty intro to what could have been the start of a marvellous friendship. Instead I bottled it. Torn between a desire to play it cool, giving them their space, and the urge to chivvy them into posing for multiple selfies as I tell them exactly which of their books changed my life the most. It's a constant struggle.
When I randomly bump into famous faces in the wild, as it were, I have even less time to prepare. Over the years - and in Euston Station alone - I've walked past Gary Lineker (tiny), Ann Widdecombe (tinier) and Peter Crouch (not tiny at all.) By the time I realise it's them, it's too late. I would have to turn around and run back, catching them up. And then what? Cooo-eee, Gary! I really liked you in Italia '90. I don't think so. I'd struggle to say anything to Peter Crouch as I don't know much about him beyond footballer, and as for Ann Widdecombe? Well. I'm not so giddy about that one. Even with all my courage summoned, I'd probably be happy to leave her be, and give the selfies a swerve.
Full of properly good food. Honest.
But why am I bringing this up now, I hear literally no one ask. Well, I'll explain. Last week I saw another celebrity in the wild. Sort of wild, anyway. I went to see the play Toast at the Playhouse in Liverpool. You know the one? Based on Nigel Slater's memoir of the same name. It was a last minute ticket, bought on a whim a couple of weeks ago, and a lovely way to spend an otherwise dull Tuesday. Nigel Slater is one of my favourite food writers. His book, Real Food, was what provided the transition between my baked beans and cheese toastie meals of university*, and my gradual understanding of ingredients, flavours and intuitive cooking. He was the person to introduce me to the mouth-watering combination of chilli, garlic, lemon, and ginger. Not a week goes by when I don't have those flavours as the base of one of my meals. That was twenty years ago. More recently he bought out his book, The Christmas Chronicles, which is the most perfectly atmospheric, cosy as all get out, winter-lovers guide to the best season of the year. (Don't @me. It is the best.) Anyway, let's cut to the chase. Tuesday night, in the theatre, people are taking their seats. Just before the action starts, Nigel Slater walks in. Yeah! For realsies. I gasped. He smiled at people as he made his way to his row. There was a frisson of excitement. It was immense. In a rare moment of spontaneous small talk, I turned to the woman next to me and said, 'Oh.' Yeah, I know. When did I get so chatty? It seems she was more used to interaction with a stranger than I was. She told me she had seen him in the bar beforehand and got a selfie. She told me he said he always makes it to the opening nights of his play. She told me he was lovely. Then the woman to my right got involved. She said she had been too shy to approach him when she had seen him earlier. The woman to my left explained she had no qualms at all. She was sixty and she had stopped caring what people think. I smiled and said, 'Good for you,' in what I hoped came across as supportive, not sarky. Obvs the real emotion was jealousy.
Lovely Nigel and his lovely writing.
This book demands fairy lights.
I care far too much about what people think. When I see someone I think is brilliant - usually a writer tbh - I assume they won't want to be troubled by little old me. I assume they'll want to be left alone to get on with their day, even when they're attending the opening night of their play, or are sitting at a book signing waiting to talk to their readers. This week, four people who have read my book talked to me about it. It was a joy. I could chat about it all day. And whilst they didn't stop me in the street, or interrupt my food shopping, it wouldn't bother me if they had. I need to remember that, especially when I'm walking away from a theatre, annoyed I didn't tell Nigel Slater I love his work.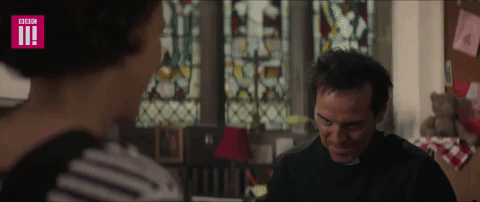 Top tip: Have a mini moment of objectification
but then celebrate male achievements
to counteract the reductive thought.
So what next? Well, brace yourselves. It's a cracker. In a couple of days I'll be watching another play. But literally, this one is beyond exciting. I've only managed to get myself a ticket for Fleabag. (Thanks to a very lovely friend of a friend, who was ahead of me in the online queue.) Now, here's the thing. There have been videos online of Phoebe Waller-Bridge and Andrew Scott giving out M&S gin and tonics to the people queueing to get in. I know it probably won't happen when I'm there but Lordy, it also might. I need to be prepared. I need to work out what to say to both of them, should they happen to walk past and offer me a drink. To be honest, it's still a work in progress. All I've planned so far is to shout at Andrew Scott (AKA Sexy Priest) to go away and not come back until he's in a black shirt and dog collar. Then I'll apologise for objectifying him, and almost as an afterthought, I might remember to say I thought his Hamlet was very good. When it comes to Phoebe Waller-Bridge, I'm worried I won't be able stop myself from leaping into her arms, burying my head in her neck and sobbing on her for being the cleverest, most perceptive, dynamite writer of her generation, that has rewritten everything I understand about character and taking an audience on an emotional journey. Like I said, it's a work in progress.
What is more likely is that a) they won't be there, or if they are then b) I will feel giddy inside, smile politely, and silently objectify Andrew Scott a teensy bit, before resigning myself to the fact that PWB will probably never be my best mate or writing mentor. I am not quite in the same place as the woman next to me in the theatre. Just twentyish years to go until I can say that I am sixty and I have stopped caring what people think. And then, brace yourselves, celebs. I'll be all over you.
Have a lovely week, folks.
*It wasn't a varied diet. Beans, cheese, bread, and crisps seemed to cover most of first year.