1. The Born-Again Art-Lover
There are some cultural things I get and some I don't. I love the the
atre but I don't get opera. I love prose but not so much poetry. I am all about eighties music but fast forward ten years and most of the nineties output is lost on me. And then there is art. I mean 'pictures on the wall' art, not art in a generic sense. I am the proud recipient of a C grade GCSE in Art and Design. Yet sometimes art galleries leave me cold. I have been to just a few that stand out positively. In the mid-90s, the Tate in Liverpool had a David Hockney exhibition that I really liked. I walked around it while I waited for the bus. I think I was fifteen. Years later I saw Munch's 'The Scream' in Oslo. It was cool to see something I recognised as a famous painting. I also love the National Portrait Gallery. Blame my Tudor History A Level, but seeing real paintings of the Earl of Leicester and Mary Queen of Scots is pretty exciting. But paintings elsewhere, depicting seascapes and sunflowers don't really float my boat.
So when a piece of art grabs me and forces me to stare for ages, it's quite a thrill. A few years ago, there was an
exhibition about April Ashley
in the Museum of Liverpool. (I visited on my birthday in 2014, when I was doing a 'food, drink and culture city-crawl'.) A
large portrait
was displayed as part of the exhibition. It was stunning. Huge in size, it dragged me in with it's vibrant colour and detail. And then, just as I was standing close, the detail became apparent. The entire background of the portrait was made up of smaller pictures of April Ashley from over the years. Her entire, trailblazing life was depicted in the background of her portrait. It only became clear when you stopped and really looked. I was mesmerised. I could have gazed at it all day.
Some time after that, I was idly scrolling through Instagram, when I saw a similar portrait. The writer Jonathan Harvey had shared a picture he had received as a present. Straight away I recognised it. Not exactly the same as the one in the museum, he had his very own version of April Ashley by what was obviously the same artist. At that point I looked him up. I felt the same gut-based-thrill as I had in the museum and I wanted to see more.
Ben Youdan
turned out to be a Liverpool-based artist. I followed him on all the social media formats I could find, and pondered how marvellous it would be, to be the sort of person that had real art and not just Ikea prints in their home. How marvellous it would be to mark a special occasion by having a piece of original art made, just for me....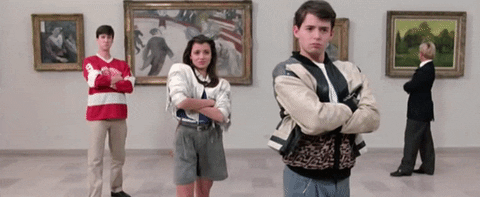 Ah Ferris. You taught me how to look sophisticated in all manner of situations.
The End.
2. A Pressure to Celebrate
A few weeks ago I wrote that I'm currently counting down to the big 4-0. Just as when I turned thirty, it feels an exciting time. A new start, re-setting goals and realising that age is all in the mind. And on top of that, it's something to celebrate. Woohoo!
My birthday has always been one of my favourite days. I imagine this is a product of big-family syndrome. It wasn't about expensive presents when I was a kid. It was about getting to choose what was for tea, and getting attention all day. Some years I had a party with friends in the house, some years it was just the family at home. At age six, it was a BIG DEAL. I had a party in a local hotel (now a nursing home) with Uncle Terry, the clown. (Sidebar - he was not my uncle.) I spent the morning of my eighteenth washing dishes at my weekend job before going home to an extended-family party-tea, and receiving a variety of kitchen-based presents ready for Uni. On my thirtieth, I woke up with a stonking hangover in San Francisco, and ended up eating minibar crisps and watching 'Enchanted' in bed. Some birthdays stand out more than others. Yet, regardless of what I actually do on the day, there is an inner glow that never fails to materialise as soon as I wake up. I walk tall and feel special. Even on past birthdays that I had to be in work, or the ones that I spent alone.
So with the arrival of a new decade alongside the inner-sparkle of knowing it means something special, there has been a lot of pressure to mark it appropriately. Discussions started last year amongst my friends. The question, 'What are you doing for your 40th?' has incited a variety of responses from us all. From a simple, 'I don't know yet' to a pained expression and a heavy heart. The pressure to mark the event has been clear. It felt much easier at thirty. Possibly due to the lack of children in my friendship group, nights out and holidays were easier to arrange. Less responsibility and more freedom made celebrating the change of decade far easier. Things seem harder now. It's time to think outside the box. It's time to do something really cool to mark the next chapter of my life. I just need to work out what that is...
35 with Battenburg
39 with a personalised cake
37 up the Great Orme
So there we go then. Those are my two stories. La-di-da, la-di-da. So, yeah. Um... that's it I suppose. Except...HAVE YOU WORKED IT OUT YET? DO YOU GET IT? HAVE I MADE IT CLEAR?
Tune in next week for the conclusion of the exciting cliffhangers of 'How is Nicky celebrating turning forty' and 'Does Nicky become someone that celebrates a milestone by commissioning art?'*
*Spoiler alert - YES SHE DOES!!! Can you even believe it? As Ferris said, 'Life moves pretty fast.' He also said, 'You're still here? It's over.' Well it is for this week. All will be revealed next Monday. Join me!
Have a lovely week, folks.
Save
Save
Save
Save
Save
Save
Save
Save
Save
Save