Morning all. How did we cope with the tricksy cliffhangers I threw at you last time? Did we sleep? Were we driven mad with suspense? Do we need to refresh our memories because we've forgotten it all?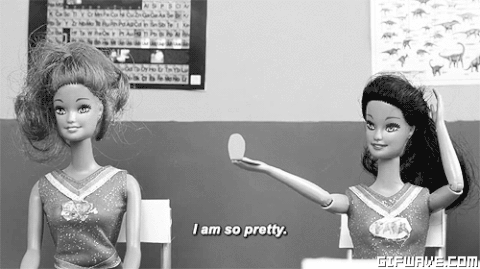 I am not this self-confident.
Last week I talked about the dual experiences of feeling the need to mark my 40th birthday in a marvellous way, and the fact I'd become aware of a local artist whose work I really liked. It should come as no surprise to anyone that I decided I was going to contact the artist in question - Ben Youdan - to arrange a portrait for my birthday. (When I shared this with my little brother, he looked appalled and said, 'A portrait of
you
?' So let me be clear for everyone. No. Not me. Not even
I
can pull off the level of confident narcissism it takes to suggest to an artist they might like to
capture
me.)
My initial enquiry about costs was reassuring. It was within my budget. In addition, the Bond siblings agreed to do a whip-round and contribute as their present to me, which was very kind of them. All in all, everything was set. The biggest challenge was to choose someone appropriate to be pictured.
I had given this much thought, long before I contacted Ben. I already had ideas from flicking through his gallery. There, iconic faces from music, film and TV are pictured side by side. Massive names such as Madonna or Marlene Dietrich are placed alongside TV characters like Elsie Tanner. It's a Who's Who of gay icons and pop culture. (Honestly, click the link and check them out. They're amazing.) I could think of several people in the public eye whose work or public persona had been personally inspirational, who represented a specific time in my life, or were just people I really liked. I decided to make a shortlist of potential subjects for my picture.
Not only do I love pulling off a Nigella in the kitchen (#sorrynotsorry) I am a big fan of her 'stoicism in the face of adversity' approach to life. She has an air of unflappability when events in her life have been anything but. Besides, her soy, honey and sesame cocktail sausages are everything.
A writer who loves to play with words and phrasing. A distinctive style. An unapologetic advocate for unapologetic feminism. An icon. Also, she is the eldest of eight so we have (almost) EVERYTHING in common.
He made me go to San Francisco because of the stories he told. Plus, he created the most perfect set of characters in his 'Tales of the City' series. I still mourn Dr. Jon Fielding.
One of my favourite literary characters from the aforementioned 'Tales' series.
Watching her win Eurovision in Copenhagen 2014 was the icing on a particularly brilliant holiday cake.
This is my peak Wham-love era.
Still decades away from
knowing what Nigella's
24-hour roast ham is.
So that was my thought process but none of them seemed quite right. The main reason was that they were all people whose work I'd come to know and love in the more recent years of my life. Armistead Maupin goes back the furthest - to my early twenties - but none of them were in my life as a child. I came to realise that this wasn't just a nice picture to put on my wall. It was supposed to represent my forty years of being alive. It needed to depict someone that had been there from the beginning. (No, not you Mum.)
There really was only one possible person it could be. George Michael. In 1984 at the age of six, I got my first Wham album. I played it on repeat for the rest of the decade. For my eighth birthday, I got a more than life-sized poster of him for the end of my bunkbed. (Top, seeing as you're wondering.) I based my love of the cold and all future Winter fantasies on the Last Christmas video, and in more adult times I've turned to George's later music to get through grown up things. In all it's heartbreak and tenderness. I first learnt of him aged five, and he died when I was thirty-eight. He pretty much spanned the first forty years of my life. His music was always there, soundtracking my life. There was no one else I could choose. It had to be him.
And that was that. I emailed Ben and explained what I'd been thinking. He emailed back and said he was up for it. It was as easy as that. Sorted.
That was at the end of last year. A couple of weeks ago I got to pick up my George Michael portrait and take him home. It got stored in the spare bedroom under bubble wrap and I wasn't allowed to hang it until my special day. But here's the thing... In an exciting time-travelling move, we can now fast-forward to right this second where my special day has happened. It's in the past. Woohooo. I've had my birthday, I've unwrapped my picture, I have a piece of gorgeousness on my lounge wall. Check out this bad boy! Isn't it stunning?
So far I've not stopped staring at it. The TV has no chance at the moment. It just makes me smile. What I love is how it changes in the light. My favourite time is at night when the glitter really sparkles under the spotlights. It shimmers when I walk into the room.
I wrote last week that I'd never really 'got' art. I think I do now. At least I have an appreciation of it that works for me. It isn't about fancy schmantziness, crazy auction prices and silent galleries. It isn't about deliberately holding your hands behind your back as you pretend to be deep in thought as you stare at a random bunch of shapes. It's the opposite. It's about being visually grabbed or shocked into a train of thought you hadn't considered. It's about accessibility. It's about pleasure and the start of a conversation. It's something to feel, rather than something to see.
Specifically, my portrait is more than a fab piece of art for the wall. It's more than a portrait of a long-loved 'celebrity'. It's more than a brill birthday present. What it is, is a daily reminder that life is short. Forty years pass in the blink of an eye, and are here before you know it. And it's a sparkly, beautiful reminder that every minute MUST be lived to the full. I don't want to put words in his mouth but I reckon it's what George would think too.
Have a lovely week, folks.