Soz and that, but
it's just the way it's turned out.
In the past few weeks it feels like I've inadvertently become a film critic on this blog
. First Wonder Woman, then Pretty Woman. It's not my intention, honest. Even less my intention to restrict myself to writing about pictures with woman in the title. It's just that individual films tend to spark off a stream of consciousness, that when left to run their course can become bigger than the original film. At least in my head anyway.
This week I'll try and keep it lighter. I'm still going to mention a film, but only because it's part of a bigger thing. Ready to crack on? Grand.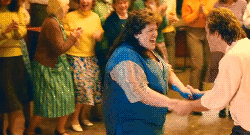 This scene alone is worth an
i
mmediate
watch of Pride.
In 2014,
Pride
-
the film about a lesbian and gay activist group (LGSM) that raised money for a Welsh village during the 1984/5 miners' strike – was released. I loved it. Firstly, the music was straight from my childhood – all Jimmy Somerville and Frankie Goes to Hollywood. Perfect. Then there was the story. Despite being set at a time of prejudice and ignorance, the solidarity between the different communities, was moving. It was also funny. Plus, it was true. Apart from some minor narrative tweaks, it all happened. This shit went down. The fact it was thirty years until the story was told to the wider world, reminds us of how selective our press can be.
One of the main characters of the film (and therefore a real person) was Mark Ashton. He was shown to be the driving influence of the decision to support the miners and form LGSM. The film depicts his tenacity and unwavering desire to
do
something
to help those in need. When you watch it, and see him in his early twenties, you get the impression that this is a guy that is going to make a difference to the world. He is going to do good things.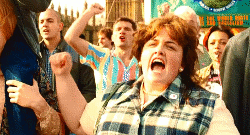 *SPOILER ALERT* The end titles are both uplifting and emotional. As LGSM and the miners march side by side for 1985's Pride, we see 'Where Are They Now?' captions for some of the main players. We learn that Sian went on to University and ultimately became an MP. Jonathan has lived with his HIV status for decades and is still healthy in his mid-sixties. The feel-good factor is high at this point but then comes the kick in the guts. Mark Ashton died of HIV/AIDS when he was 26. Only a couple of years after the strike ended.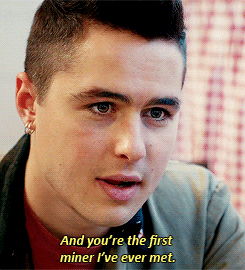 Ben Schnetzer, portraying
LGSM's Mark Ashton.
Honestly, I real
ly
was
trying to keep it light this week. I'll try harder now. A few months ago, one of the original LGSM members, Mike Jackson, set up a
Crowdfunder
.
Its aim was to raise money to buy a blue plaque for Mark. One that would be displayed outside Gay's the Word, the bookshop where LGSM used to meet. In the bastardized words of the Bridget Jones woman, he had me at 'Hi, I'm Mike Jackson'. This wasn't one of my usual drunken online pledges either. (I've explained before how I once woke up on a Saturday morning to an email thanking me for my £75 donation for a comedian's new DVD - a comedian I only know through his tweets. Clearly, my charitable nature reaches it peak via the golden bubbles of Prosecco.) This Crowdfunder was different. I soberly and deliberately jumped at the chance to be involved. I was young but I remember the AIDS crisis; watching the news report one famous death after another seemed never-ending. The lost talent and unknown potential snatched from the world at that time is unfathomable and never ceases to overwhelm. Supporting a blue plaque for Mark Ashton felt important. He achieved more than most people manage in their life, and in a shorter amount of time. That's definitely worthy of recognition.
The plaque was unveiled outside Gay's the Word in May. The other day I decided to go and see it. Yeah, I know. A four-hour round trip to see a blue plaque might seem excessive, but I don't care. I can eat my lunch on my sofa or I can mix it up and eat in London now and then. Last Friday I chose London.
When I got home that evening, it felt absolutely right to watch Pride again. But alongside that, I delved into the treasure trove of factual information that the Internet provides. There is so much! Pictures of visits by LGSM to the Dulais Valley, an all-the-feels documentary on Youtube made in 1985, memories of the real life Hefina and Cliff as played by Imelda Staunton and Bill Nighy - the joy of people sharing a goal and working together.
*
I'm so glad that Pride was made. I wouldn't know this story otherwise. I wouldn't have a clue of the talents and bloody-mindedness of this group of extraordinary people. I'd have missed out.
Have a lovely week, folks.
*
H
ot off the Twitter presses as I write this post, it has been announced there is a book about the real life Pride in the offing. I couldn't be happier.