It's countdown to another Bank Holiday, folks. This time next week, we'll be in the final throws of a three-day weekend. (Apologies to non-UK peeps who don't get to experience such fun. We have to get our kicks where we can these days.)
As I've mentioned before, the Family Bond has a regular jaunt to Wales each May - the first Bank Holiday of May. Returning to a caravan park of our youth, we load up our respective cars with the basic necessities required to survive a cramped, often rainy weekend alongside a mish-mash of family members. This boils down to beer and wine. Beer, wine and blankets. That's what's needed to get through. As I type (whole days before the event) the weather at home is bright and breezy. I have no doubt that the second we arrive for our Welsh weekend, the sky will have greyed and the rain will fall. It will fall for as long as we're there. But that's fine. It's what we expect.
Skimming stones, a couple of years ago.
Who needs swanky luxury with that horizon.
There is an additional frisson of excitement this year, though. I imagine that's been obvious as you've been reading this. I'm sure you can sense how I'm fizzling with anticipation. Are you ready to be put you out of your misery? Excellent. Well let me explain. For the past decade, the grown up Bonds have holidayed in the caravan park that we used to visit in the early to mid-90s. I was a young teen. It is...and I'll whisper this quickly... a tiny bit scruffy (shhh!) but it's set on cliffs overlooking the beach, so regardless of a lack of gourmet restaurants, and some unsightly water-stained buildings, it has the sensory pleasure of crashing waves, swooping seagulls and the twinkliest night's sky on the walk back from the pub. It's lovely. But....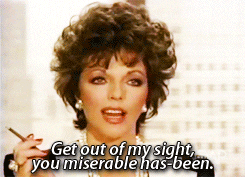 What the new management said to the old
management. Probably.
Yes, there's a but. This year the caravan park has had some sort of take over! There's 'new management'. I know! I imagine the phrase, I own 51% of this company has been been shouted Alexis Carrington-style at a board meeting at some point. Everything we know is up in the air and as a result of this,
DISASTER has struck.*
The office has not been able to take our booking. We've held on for a while, wondering if they'd get themselves sorted in time for our set-in-stone, annual jolly, but it seems they could not. We've had to find somewhere else.
Now here's the thing. Bonds don't like change.** It has to be in the same area, with the sea nearby, on a caravan park, with a club offering children's entertainment, and two disabled-friendly caravans in close proximity to each other. There can be no variation to any of this criteria. It has to be the same every year. Happily, despite only sorting it mere weeks ago, my brother - who takes responsibility for this gig - found somewhere that met our needs. And now THIS is where my excitement comes from.
Tethered to a washing line
LIKE A DOG. I'll be
retrospectively ringing
Esther Rantzen.
Grabbing a crisp with my
bowlhead
while
a
couple does a slowie
behind me.
Bonds on Tour is trying somewhere new. Except, not really. It's not actually new. We've been there before, like a million years ago. It's the caravan park we went to when I was a really little kid. 1980 was the first time, and we returned repeatedly throughout the decade. Whereas the younger member of the family buzzed off the nostalgia of the boardroom-chaos caravan place of more recent years, I had earlier memories of the one a couple of miles along the seafront. It's the holiday destination that is linked to my sense memory. Whenever I smell chippy chips, the ozone, suntan lotion or beery pub fumes, my mind turns to this particular location. I am giddy that I get to go there again.***
It's cold, or my Dad's
not beach
body
ready.
Zipped up cagoules for
a mother and daughter
day at the beach.
I've already looked through old photo albums at previous visits. There's lots of me on the beach, several of me with an ice-cream, and a few sitting in the caravan eating sandwiches. It was all go in the 80s. Next week, I'll no doubt be doing those things again. Along with the beer, wine, and blankets. If you want to see drunken shenanigans and sibling seaside banter, I'll be adding photos to Insta****. I'm called @bondiela. But for now, I hope everyone has a great weekend, whether you're wallowing in childhood nostalgia or cracking on with your usual routine.
Have a lovely week, folks.
*Obviously disaster didn't strike. Some people have real shit to deal with. It was just a hiccup. But still.
** #notallbonds
***More randomly, my mind goes back there whenever I hear the Pet Shop Boys' song, It's a Sin. The lyrics were published in my holiday copy of Smash Hits and I learnt them in the car, en route to the caravan. Sometime around 1987.
****I believe that's what the kids call Instagram. You're welcome.